Pressure Washing vs. Soft Washing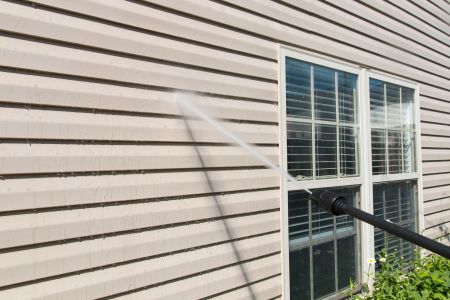 More and more companies are starting to offer this different type of service called soft washing. Claiming that it's safer than pressure washing. Will clean your home with very low pressure. No damage to your property they say.
Basic features of pressure washing and soft washing: Both methods use a pump system to spray water and chemical on the surfaces that require cleaning. A pressure washer creates very high pressure to get dirt and organics off surfaces.
Hard surfaces like residential concrete, pavers, and brick can handle higher pressure. Less chemicals are needed to remove algae and dirt. The process takes less effort.
How safe is pressure washing? That's not the question you should ask yourself. Your concern should be how careful is the operator? High pressure is dangerous. There are simple procedures you need to follow, like with any other powerful equipment. You need to be careful not to get hurt or damage property. Read the owner's manual
A soft washing system creates very little pressure with higher volume of water. This said, it requires different chemicals that will stick to the surface and work to breakdown the dirt and organics. Followed by a with low pressure rinsing to wash off the dirt.
How safe is soft washing? Off the bat, it produces very low pressure (similar to a garden hose). The flow coming out of the washing gun or wand will not hurt you. On the other hand, this type of cleaning requires chemicals to get surfaces clean and algae free. You're more prone to damage landscaping if you don't take necessary precautions to protect the ground. The pressure will never damage any surfaces. When you properly follow instructions, you will see that soft washing is safe.
Still wondering which system comes up to the front of the line? Well, it's simple. The words soft wash says it all. If a contractor comes to your home for an estimation to clean your roof with a pressure wash method or soft wash method, which will you chose? You don't want any damage on aluminum, vinyl, or wood siding nor do you want roof shingles getting damaged or ripped right off the roof. Soft washing is the way to go.
If you have a driveway or walkway composed of pavers, or an area around the pool that needs cleaning you have no choice but to have it cleaned with high pressure. The professionals use proprietary solutions and have the right equipment to make sure there's no overspray on flower beds or grass.
Surfaces Requiring Pressure Washing
The best way to clean these hard surfaces is to apply the right combination of chemicals and let the solution sit(dwell). This process will work to start killing any organic growth or dirt. The high pressure comes along, rinsing after 5 minutes to ensures that everything has been removed. Combining chemicals with high pressure gets the job done on hard surfaces.
Surfaces Requiring Soft Washing
The right soft washing professionals will have the proper equipment for soft washing and pressure washing. These 2 services are tied together. That said, the technician needs to know what ratios are needed when it comes to roof washing or vinyl side washing. Untrained people can do more harm than good. Any surface that is easily damaged by high pressure requires only soft washing. Landscaping management is required before any cleaning work begins. This will ensure the plants are protected.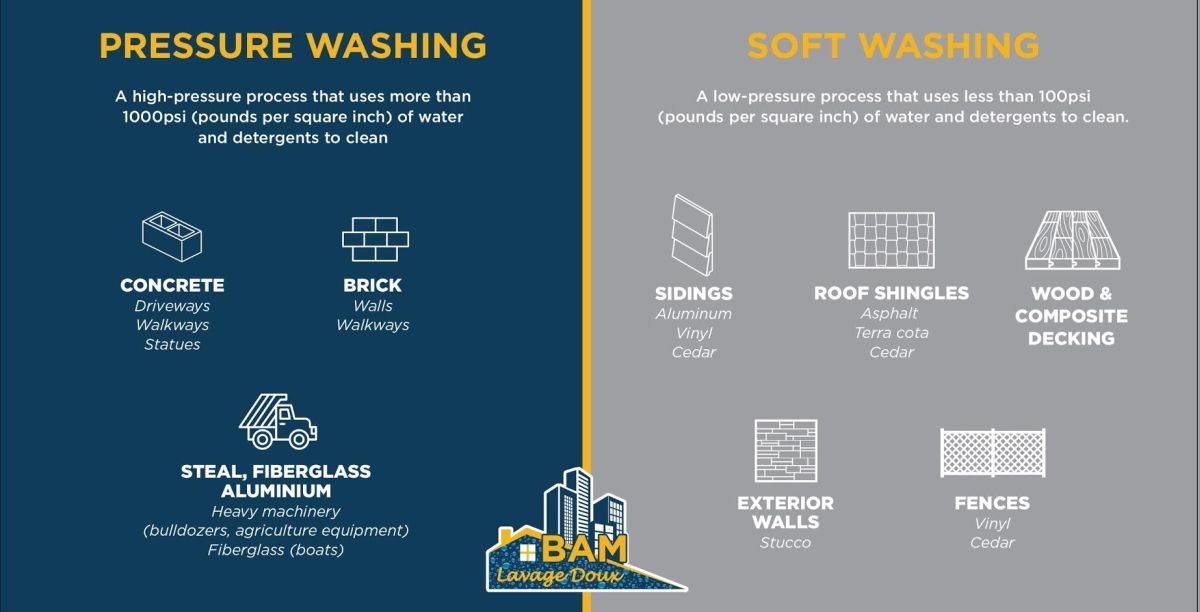 It's Time To Softwash Your Home
You need a pump-up sprayer in order to mix your Sodium Hypochlorite, surfactant and water. You'll need to add the correct amounts, otherwise you can damage your siding. The professional companies use a mixing system that blends all the chemicals to the correct ratios depending on the job with the turn of a knob.
Once your chemicals are mixed you want to start the pre soak process for all plants near the walls. Once that's done you can start applying the mix to the siding. Make sure you apply a good coat of product; this will help dissolve dirt and organics that are glued to the surface. After 5 minutes you can start the rinse process. Don't be scared of hosing down the siding, it's clean water and it will help dilute the chemicals. Make sure you don't let an area dry with chemical on it, this can leave marks.
When you're washing a home, you need to understand how your equipment works and have the knowledge of how to apply the different detergents. Soft washing professionals have access to products that the regular consumer cannot get their hands on. Their equipment allows them to quickly switch ratios between a roof wash, vinyl siding or pavers washing mix in no time, thus avoiding applying a hot mix where it's not needed. It takes away the "2nd guessing" of "what concentration is in my tank? Can I use this on the vinyl siding without damaging it?"
When you need work done around the house, professionals with the right training and equipment have the experience and will know whether to use a pressure washer or soft washing.
Contact Lavage Doux Bam
Schedule a Consultation Today with a Montreal Pressure Washing Specialist!