Pressure Washing Services Mont-Gabriel Homeowners Can Rely On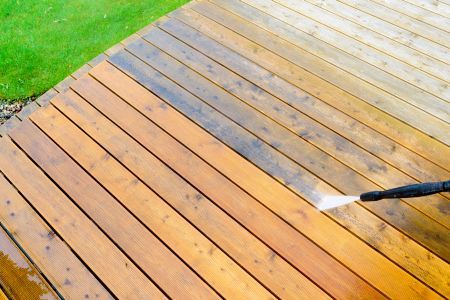 As a Mont-Gabriel homeowner, you know how important regular maintenance and cleaning is to protect your home's curb appeal and property value. Unfortunately, daily life can turn your To-Do List into an overwhelming headache, which is why you need a dependable pressure washing company like Lavage Doux Bam to help you stay on top of things.
When it comes to skills, we're versatile. Our main goal is to make your whole home look beautiful, not just a few select areas. Some pressure washing companies just want to blast everything with high pressure, which isn't appropriate for delicate surfaces, like your siding or roof. We specialize in various cleaning solutions in order to effectively and safely clean all your different exterior surfaces. We are equipped to handle everything from concrete cleaning to roof cleaning.
Mont-Gabriel's Superior House Washing Team
Has your home's exterior been looking a little drab lately? Before you start to feel too discouraged, a professional house washing by Lavage Doux Bam may be just the ticket to renew your Mont-Gabriel home's beauty and your pride of ownership. Our pressure washing pros have the experience and equipment to return it to like-new condition.
If you have vinyl siding, you may feel hesitant about a house washing that utilizes pressure washing. Rest assured, we don't want to destroy any of your property either, which is why we have access to soft washing, no-pressure washing, and low-pressure washing options that are just as effective as our conventional high-pressure washing.
Roof Cleaning For Your Mont-Gabriel Home
If you've invested the time and money to have professional pressure washing or house washing, you should go the extra mile and have a roof cleaning, as well. After all, a beaming house and driveway just won't look as impressive if your roof is dingy and streaked. Lavage Doux Bam's roof cleaning service uses the same safe soft wash method we use on your siding, and the results are just as dazzling.
About those black streaks on your roof…
If you've been concerned about those black streaks on your Mont-Gabriel roof, they're caused by a type of algae called gloeocapsa magma. They aren't dangerous all by themselves, but if ignored, they'll eventually eat into and destroy your asphalt shingles. Our soft wash totally kills these algaes and makes sure they won't grow back, so you can rest assured knowing your roof is clean and safe, doing its job to protect the rest of your home.

Reviews & Testimonials on Lavage Doux Bam in Mont-Gabriel, QC
There are currently no reviews or testimonials, check back soon!
Articles & Tips
How to Clean Roof Shingles

Let's look at the process of roof cleaning from the eyes of a trained professional, this may give you some insight on how you would go about to get all those black streaks or moss off your roof witho […]

What can I Power Wash Around the House

Ok calm down! There's a whole lot of things you can power wash around the house. We all know that. Don't get trigger happy just yet. When we have a pressure wash wand in our hands the dirt is almost […]
Contact Lavage Doux Bam
Schedule a Consultation Today with a Montreal Pressure Washing Specialist!